Meet the Tulare FFA Officer Team!
As the 2021-2022 Tulare FFA Officer team prepares for the year to come, we look forward to the opportunity to serve this unique chapter. This organization has the ability to impact and direct many lives. Our goal as an officer team is to help students develop a passion in life, advance into a well-rounded leader, encourage individuals outside their comfort zone, and ultimately push students to their full potential. As our goal is to help students reach their full potential and achieve success, our team has decided on the theme of "Cultivating Success."
In order to cultivate success, we will make it our priority to make personal connections with each member. By making special connections we will be able to create stories that will last a lifetime. In order to create stories and truly "cultivate success" we recommend that you always keep an open mind and try new things. While trying these new experiences it is important to work hard and remain focused through dedication and determination. Through this journey, we hope to show students the endless opportunities that this organization has for each and every student.
Now that we are getting back in the swing of things, it is more important than ever to defy boundaries and get out of our comfort zones. The unprecedented events of this last year have allowed for a unique season of growth and development. The changes have compelled us to get uncomfortable and face each challenge head on. In the coming year, we as officers hope to promote the adaptation of each and every member in this modern day of society. By cultivating success they will have the tools necessary to become successful despite the challenges they may face.
Tulare FFA, it's up to you to decide how you will face the coming year. We hope you will embrace the changes, create stories, and join us in cultivating success.
Meet the 2021-2022 Chapter Officers
President Isabella Ribeiro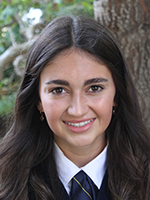 Hey everyone! My name is Isabella Ribeiro and I am a senior at Tulare Western High School currently serving as your Chapter President. Agriculture has been a large part of my life for as long as I can remember. I grew up on my family dairy farm and have since then developed a deep passion for the agriculture industry. FFA has allowed me to carry out the amazing tradition of agriculture. I raise dairy cattle, compete in the prepared public speaking contest, and am currently serving as the regional president. Outside of FFA I love to spend time cheering at football games, baking, and being with friends and family. I am the oldest of 4 siblings which has given me the opportunity to learn the importance of leadership. responsibility and so much more. I hope in the coming year to make personal connections with each and every one of you! I can't wait to see what opportunities the new year brings and to further learn how to best serve our chapter and community!
Building Communities Vice President Avery Coelho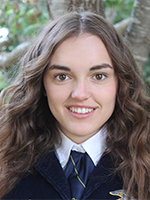 Hello, my name is Avery Coelho and I am a Senior at Tulare Western High School, currently serving as the Chapter Building Communities Vice President. FFA and agriculture have had a tremendous impact on my life, from showing sheep, completing agriscience projects, participating in judging teams, competing in speaking competitions, and just being a part of this chapter. This being the case, I am extremely excited to give back to the chapter that has pushed me to become the person I am today by serving as an officer this year. Apart from FFA, I am a part of the water polo and swim team, I raise and show sheep at different shows around the state, and I am very dedicated to my education. Some of my hobbies include going to the lake, skiing, and spending time with my friends and family. I am very excited and proud to be a part of this year's Tulare FFA's Chapter officer team.
Growing Leaders Vice President Corbett Vander Feer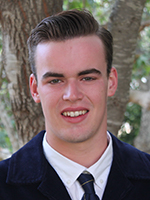 Hello! My name is Corbett Vander Feer and I am a senior at Tulare Western. I will be serving the role of Growing Leaders Vice President. This is my fourth and final year in the FFA program and I have learned that agriculture is rooted deep within Tulare and other communities surrounding Tulare. I'm involved in Tulare's Ag Mechanics and Citrus Judging Teams. For my SAE project, I work a part-time job at Cal-Bean & Grain Co-op where we receive and clean blackeyes and garbanzo beans. Outside of FFA, I play water polo and I'm part of Tulare Western's Varsity swim team. I go on hunting trips, study history, and can be found mostly working at my grandpa's shop on projects during my free time. This year I'm looking forward to working with my fellow officers to help the members of Tulare FFA. My goal this year is to put students into the spotlight for their hard work in the classroom, SAE, and FFA. I'm looking forward to seeing members at the meetings in the future.
Strengthening Agriculture Vice President Sophia Gomes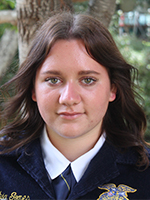 Hello, my name is Sophia Gomes. I am currently a Junior at Tulare Western and have been an active member in Tulare FFA throughout my high school career. I will be serving the membership this year as Strengthening Agriculture Vice President. This year will be my second year serving our Chapter as a member of the officer team and I am beyond excited to work with my team this year, to continue to improve our chapter. I am highly active within the chapter, competing on many speaking and judging teams and had the honor of being last year's Outstanding Sophomore. Outside of the chapter I serve as Sequoia Section Vice President, play water polo for Tulare western, and am a part of the Dairy Princess program. As an officer I will strive to make as many personal connections with members as possible and encourage them to become active within our chapter. I cannot wait to serve our chapter this year and help my fellow officers, and members, to Cultivate Success!
Secretary Jillian Fernandes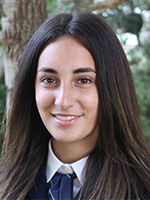 Hello! My name is Jillian Fernandes. I am currently serving Tulare FFA as Chapter Secretary. I am a Senior at Mission Oak High School. Tulare FFA has had a positive impact on my life. I have made many friendships here with the other students, my Ag teachers, and other staff. I am active in our chapter by participating in our dairy judging team, citrus judging team and cotton judging team. I have also shown dairy for 5 years and enjoy being a part of Tulare FFA's dairy show team. I hope to make new friendships with our members and continue to give back to our community. I am excited for the 2021-2022 school year with this officer team and all of our members.
Treasurer John Michael Ribeiro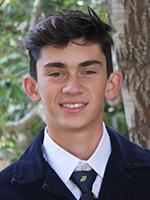 Hello, my name is John Michael Ribeiro and I am your Tulare FFA chapter treasurer for the 2021-2022 school year! I am going to be a junior this year at Tulare Western High School. I am a part of the dairy showing team and enjoy different speaking and judging teams within FFA. These include dairy judging and extemporaneous speaking. I also spend my time playing different sports such as football, soccer and swimming. I like to be a part of my church community by going to youth group and volunteering for our VBS this year. I also coached for the Tulare sharks swim team and enjoyed teaching kids how to swim. In my free time I like to work on my family's farm or hang out with friends and family. I also have an internship this year at the Tulare County Farm Bureau and I am excited for the new things that this year has in store for me.
Reporter Liezel Casillas
Hi Tulare FFA, my name is Liezel Casillas and I am currently serving as your 2021-2022 Chapter Reporter. I am a Junior at Tulare Western High School and I am involved in CSF and being a cheerleader. I am very excited to be serving this amazing chapter. Despite not being raised around an agriculture background, I have had the opportunity to really see the positive impact Agriculture and Tulare FFA leave on the community. I am very involved in Tulare FFA. This will be my second year serving as a Tulare FFA officer. I have had the opportunity to be on the Job Interview LDE team, the Vet Science CDE team where I placed 1st high individual in the Reedley Field Day, I am also the Head Student Sheep and Goat Manger. My SAE is Showing and Breeding Sheep and I have received a proficiency award in Sheep Production. During my time as an FFA member I have built many amazing relationships with both members and Ag advisors. My goal this year is to support the members cultivate the success they continue to achieve. I can't wait to get to know each and every one of you. Let's have a great year full of memories.
Sentinel Kurtis Ashford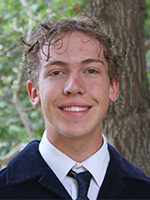 Hello, my name is Kurtis Ashford from Mission Oak High School. I am your 2021-2022 Chapter Sentinel. I participated in last year's chapter office as the Parliamentarian. I have shown pigs all 4 years of high school. I hope that this year I will be able to form personal friendships and connections with many of our members. My fellow officers and I are very excited to take on a new challenge this year and really Cultivate Success. I truly hope that we will make the 100th year of Tulare FFA one for the books!
Parliamentarian Tanner Mederos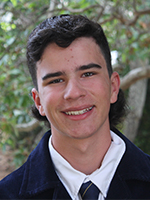 Hi, my name is Tanner Mederos and I am a Sophomore at Tulare Western. I will be serving Tulare FFA as the 2021-2022 Chapter Parliamentarian. I have participated in many activities over my freshman year like the Opening and Closing contest, Creed speaking team, BIG team, and the market swine showmanship team. All of these teams helped me earn the achievement of chapter star greenhand. I decided to run for office because of my inborn passion for the agriculture industry from helping my dad out at the school farm and also helping my grandpa farm his orchards. Some hobbies outside of FFA of mine include golfing, riding dirt bikes, and hanging out with friends and family. My goal is to help get fellow members of the FFA Chapter involved in all of our opportunities we have to offer from CDE and LDEs to committees and leadership positions.
Historian Jillian Garcia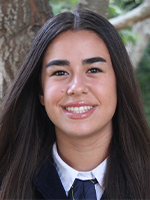 Hello! My name is Jillian Garcia and I am a sophomore at Tulare Western High School currently serving as your Chapter Historian. I have been in FFA for one year now and have participated in Creed Speaking, Best Informed Greenhand, Dairy Products Judging, and been a Greenhand Officer. Agriculture is a big deal in my family, I've been raised to appreciate and respect the ag industry with my uncle having a dairy and my family growing pistachios. In being an FFA officer I hope to learn a lot of leadership skills and apply that knowledge to the future ahead of me. Aside from FFA, I enjoy playing volleyball, traveling to new places, and hanging out with my family and friends. Throughout this past year I have been given many opportunities through different CDE/LDE teams that FFA has to offer. As an officer I hope to inspire other students the way I was, to join the FFA and be more involved!
Chaplain Gianna Fernandes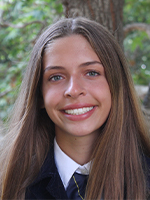 Hello, my name is Gianna Fernandes and I am serving as your 2021-2022 Chapter Chaplain. I am a sophomore at Tulare Western and I have always been heavily involved in agriculture. Growing up in a family of dairy farmers and showing cows my whole life has really shaped and grown my love for agriculture. In my freshman year I was given the opportunity to be a part of the parliamentary procedure team, the creed speaking team, and serve as a greenhand officer. I even got the chance to participate at the state level in Creed. Outside of FFA I am also involved in competitive water polo, basketball, and swim. I also enjoy spending time with family and friends, working, and traveling. This year I hope to build connections, grow as a leader, and work with my fellow officers to make Tulare FFA the best it can be.