About FFA
The Agricultural Education Model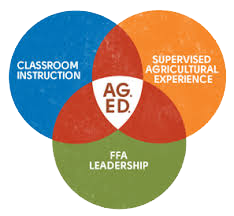 Agricultural education is a standardized program of instruction for students passionate to learn about the business, science, technology of plant and animal production and/or about environmental and natural resources systems. Agricultural education instruction has three major components: SAE, FFA and Classroom, all of them together are referred to as the Ag Ed Model. 
Agricultural education joined the public education system in 1917 when the Smith-Hughes Act was passed. Today, over 800,000 students are involved in agricultural education programs offered in grades seven-adult throughout the 50 states and three U.S. territories!
What is FFA?
FFA is an intracurricular student organization for those interested in agriculture and leadership. It is one of the three components of agricultural education. The official name of the organization is the National FFA Organization.
The letters "FFA" stand for Future Farmers of America. These letters are a part of our history and our heritage that will never change. But FFA is not just for students who want to be production farmers; FFA also welcomes members who aspire to careers as teachers, doctors, scientists, business owners and more. For this reason, the name of the organization was updated in 1988 after a vote of national convention delegates to reflect the growing diversity and new opportunities in the industry of agriculture.
Today, the National FFA Organization remains committed to the individual student, providing a path to achievement in premier leadership, personal growth, and career success through agricultural education.
SAE
Please see our "About SAE" page.
Classroom
Classroom instruction is hands-on learning in one of our many agricultural classes. Our classes utilize our on site farm for labs and demonstrations whenever possible. Please see our "Ag Classes Offered" page for more information! 
The FFA Mission Statement
"FFA makes a positive difference in the lives of students by developing their potential for premier leadership personal growth and career success through agricultural education."
FFA Motto
Learning to Do, Doing to Learn, Earning to Live, Living to Serve
FFA Colors
National Blue & Corn Gold